120 Nights Trial
You can try all the products in the comfort of your home for 120 nights from the day you receive them. We do require the customer to try the products for at least 30 nights in order to give the body time to adjust and the product must be in donatable condition in order to be eligible for a return.
If you decide your Hamuq mattress or bed frame isn't for you, we'll send a courier over to remove the product from your home and either donate it to a local charity or have it recycled. Please keep the original plastic for pick up (better for the environment) or you can purchase a mattress bag from a local moving store, Staples, or Home Depot ($15). We may require a bed frame to be unassembled and placed back in its original packaging for pickup.
With all other products, we'll provide you with a prepaid FedEx label for you to ship your product back to Hamuq free of charge. Either way, your original form of payment will be refunded 100 percent.
Sleep Trial Timeline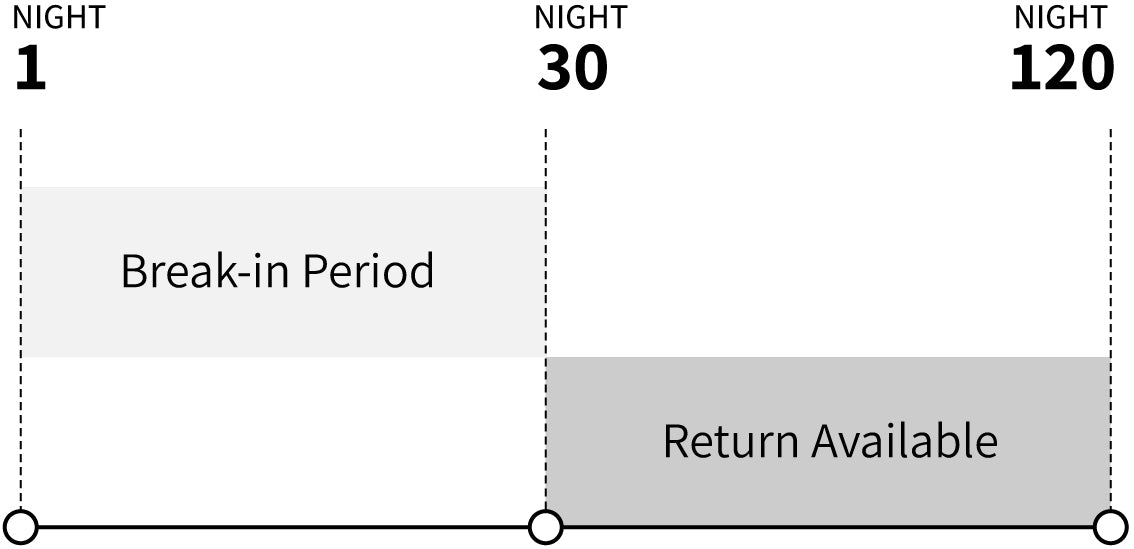 Try at least 30 nights
A lot fell in love with Hamuq Mattress on their first sleep. But others might take a few weeks for the body to fully adjust to the comfort, support and firmness of the mattress. After trying it for a few more nights, you'll soon experience the best sleep of your life.
How do I return my Hamuq Mattress?
If your mattress was delivered within the last 120 nights, you may be eligible for a free, no-hassle return. Just email us at info@hamuq.com  and we'll help coordinate the return for you. But before you inquire about returning your mattress, have you asked yourself these questions?
Have I given my body enough time or 30 nights to adjust to my Hamuq Mattress?
Am I using the proper bed frame to support the collective weight of the Mattress and foundation?
Is my mattress eligible for a return?
What happens to the mattress when it's returned?
Returned mattresses will be given to our partner charity or to the local charity near the area. For some areas wherein donations are not available, we will have the mattress recycled.